The world's biggest family has been found in India where Ziona Chana is the husband of 39 wives.
Chana has 94 children, 14-daughters-in-law and 33 grandchildren and lives with all of them in a 100-room mansion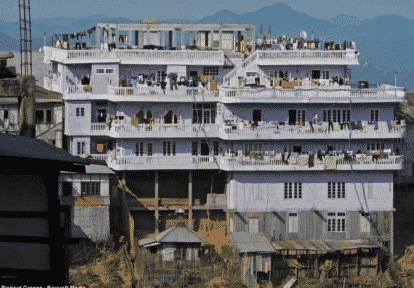 Chana says that he is 'blessed' to have his 39 wives.
They live in a 100-room, four storey house on the hills of Baktwang village in the Indian state of Mizoram, where the wives sleep in giant communal dormitories.

The family is organised with almost military discipline, with the oldest wife Zathiangi organising her fellow partners to perform household chores such as cleaning, washing and preparing meals.
One evening meal can see them pluck 30 chickens, peel 50kg of potatoes and boil up to 100kg of rice.
Mr Chana is the head of a group that allows members to take as many wives as he wants. In New Zealand a person may only have one wife at any time.
The video below is a family photo held last year.
[youtube id="Lhy1Iab4X5U" width="620″ height="360″]
1. Find quote from the main person in this news article?
Question and Answers WORKSHEET