Sugar cookies are a great treat to eat and so easy to make. I like making them for a special treat.
The secret is to make sure that get the measurements correct and the fun part is you can decorate them any way you like.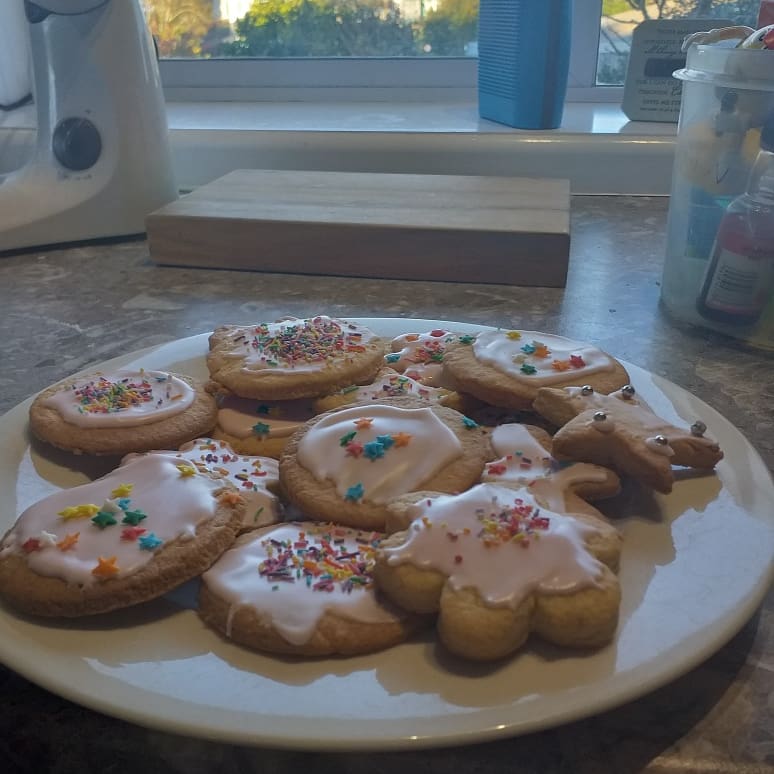 INGREDIENTS:
1 Cup unsalted butter
1 Cup granulated white sugar
1 teaspoon vanilla extract
1/2 teaspoon almond extract
1 egg
2 teaspoons baking powder
1/2 teaspoon salt
3 cups flour
DIRECTIONS:
Preheat oven to 190° C.
In the bowl of your mixer cream butter and sugar until smooth, at least 3 minutes
Beat in extracts and egg.
In a separate bowl combine baking powder and salt with flour and add a little at a time to the wet ingredients. The dough will be very stiff. If it becomes too stiff for your mixer turn out the dough onto a countertop surface. Wet your hands and finish off kneading the dough by hand.
DO NOT CHILL THE DOUGH. Divide into workable batches, roll out onto a floured surface and cut. You want these cookies to be on the thicker side (closer to 1/4 inch rather than 1/8).
Bake at 190° for 6-8 minutes. Let cool on the cookie sheet until firm enough to transfer to a cooling rack.
Original recipe © In Katrina's Kitchen
This is the royal icing recipe
Ingredients
1 egg white
250g Chelsea Pure Decorating Icing Sugar
1 tsp lemon juice (you don't have to have it)
Method
Using an electric mixer, whisk egg white until light and frothy. Gradually add Chelsea Pure Decorating Icing Sugar and lemon juice to egg white. Beat at high speed until fluffy, thick and shiny. Fill piping bag with mixture, and pipe onto biscuits and cakes.
Sets within 5 minutes.
Note: Contains raw egg whites – not suitable for pregnant women and those on restricted diets.