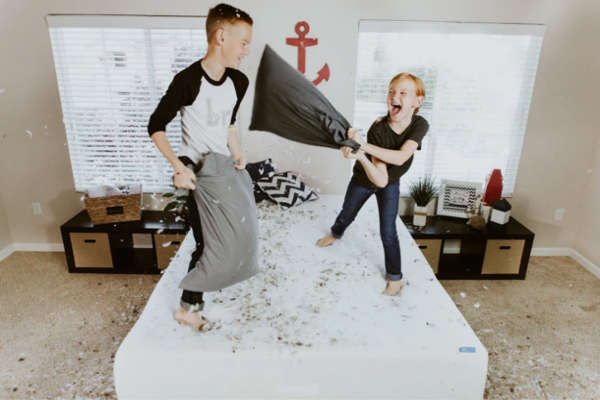 Stay Sane when staying at home
It's easy for this extended time indoors- especially with your family- to cause a bit of cabin fever. Waking up every day to the same agenda; staying home, will no doubt be getting old after almost 3 weeks.
There are, however, several things you can do to help you stay relatively sane during this confusing time.

Create a routine:
It's a good idea to change out of your pajamas, have a shower and make your bed every day. Just because you're friends won't see you, doesn't mean your family should be able to smell you! Doing small things you usually do every day will help things feel more normal and you feel better.
Break things up:
Find tasks to break up your day so it doesn't feel so long and boring. In the middle of the day try to fit in a
walk or some exercise so it feels like you have a separate morning and afternoon rather than just one long day.
Another good idea is when possible, change your environment for different activities. That way you still feel as if your brain will feel like it has places to do the things it normally does without going to school or to sports practice. You could change around your room and dedicate each corner to a different activity.

Take care of your body:
This is a perfect time to catch up on some sleep. Luckily you have nowhere to go so you can finally sleep in without fear of missing the bus! It's also important to keep moving. There are some great exercise videos online and these can be a great way to get motivated and can be really fun especially if you get
your siblings or even your parents involved! Check out KIDZ Bop to learn some awesome dances which definitely count as a good way to exercise.
Use your imagination:
If things are starting to feel a bit scary, it's a good idea to put your imagination towards something positive. You could do this by drawing or painting or creating a short film about your time in lockdown. That way you have something to look back on and remember what you did with these 4 weeks.

Or just relax:
We are going through a pandemic so it's okay if you aren't learning a new language or skill. It's totally
okay if somedays you just feel like chilling out. Get stuck into a new book or series to take your mind off
things.

The main thing is to stay happy and healthy. I mean, if you're really bored remember you can always help your parents with some jobs or go tidy your room…? What have you been doing to stay sane during the lockdown?
Comment below