SpaceX has created history over the weekend by carrying two NASA astronauts to the International Space Station (ISS).
It marks the first time that NASA astronauts have been sent to space on a rocket owned by the privately-owned company, SpaceX.
The mission was launched from the Kennedy Space Centre in Florida on Saturday. Later that same day the ship docked at the International Space Station.
The mission is important for future exploration, like the upcoming Artemis mission, which aims to put the first woman and next man on the Moon by 2024.
Moving forward Nasa will use SpaceX as a 'taxi' service to send people into space, rather than using their own rockets.
Below is an image of the dragon capsule used to dock with the International Space Station.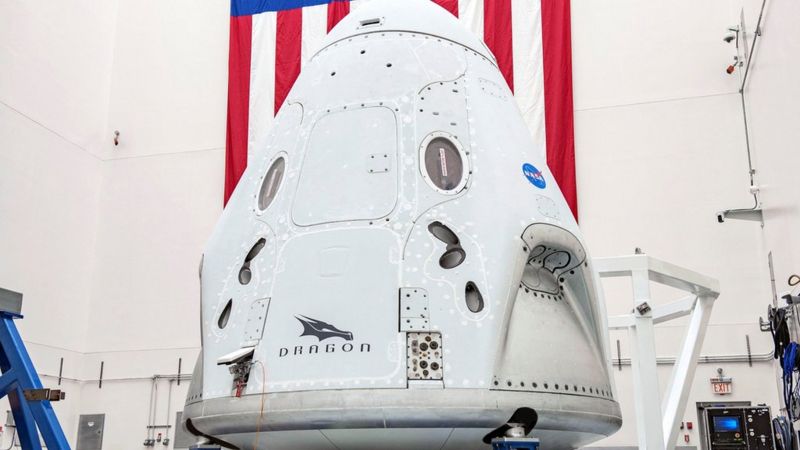 Originally the mission had been planned to take place on Wednesday 27 May, but bad weather meant the launch had to be rescheduled for Saturday.
The launch of the space rocket was impressive. Astronauts Doug Hurley and Robert Behken were blasted off into space at 27,000kmph – 22 times the speed of sound.
After the initial take off, the rockets used to push the spacecraft landed safely back to earth. Check out the video below.
What is SpaceX?
SpaceX is a private space company owned by billionaire Elon Musk. He wants to make space travel cheaper and one day wants to run space tourism trips into orbit and the Moon.
Elon Musk is an inventor who owns the company Tesla as well as SpaceX. He made a lot of money by selling the online payment service PayPal to eBay.
Meet the Astronauts
Robert Behnken and Douglas Hurley are two of Nasa's most experienced astronauts.
They have both been to space twice before, and are both married to other astronauts!
Robert and Douglas are also wearing some pretty cool new spacesuits which were custom designed by Jose Fernandez, a costume designer who worked on the Batman, X-Men and Thor movies.