A rare, 160-year-old flag has been returned to the Kīngitanga by the Anglican Church.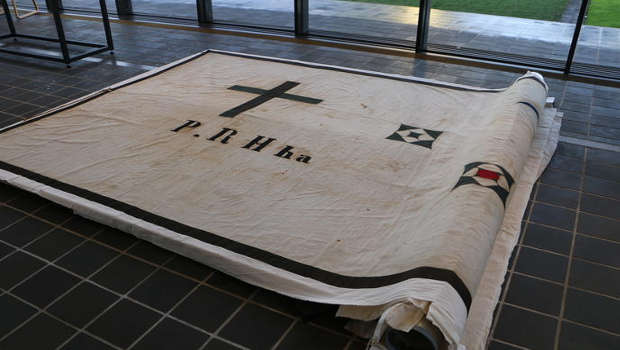 The flag dates back from the time of the first Māori King, Pōtatau Te Wherowhero.
The Anglican Diocese officially signed over ownership to the Kīngitanga after forgetting they had it for almost 100 years.
Pōtatau Te Wherowhero was the first Māori King, crowned in 1858.
The current King, Kīngi Tūheitia's son, Te Ariki Tamaroa Whatumoana, received the taonga on behalf of the Kīngitanga at a ceremony at Auckland Cathedral.
The origin of the flag is unclear, it may have been made as a kind of funeral pall at the time of Pōtatau's death.
In 1929, it surfaced in England. It appears to have been taken there in 1865 by a member of the clergy who had served in Aotearoa. It was then returned to Aotearoa.
Ross Bay, the Anglican Bishop of Auckland, said it is time for the taonga to finally return home.
The flag will be welcomed back to Turangawaewae marae formally next week with Waikato Tainui now re-assuming their role as kaitiaki of the taonga.