Auckland Police have issued eviction notices on protestors living at Ihumātao.
Ihumātao is a small settlement in South Auckland that has deep cultural significance to Auckland and New Zealand.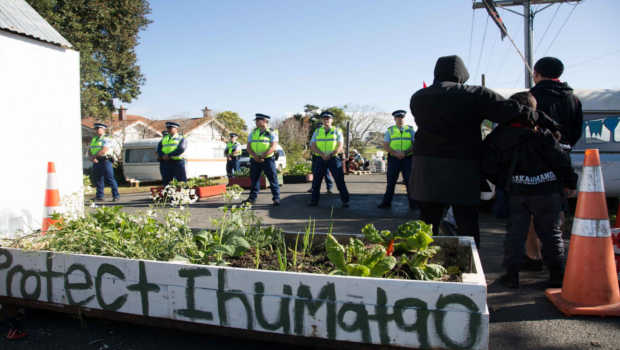 The problem at Ihumātao has been ongoing for years.
Fletcher Building, a large building company, want to use the land to build houses. However, a group called SOUL believe the land has strong cultural significance. They have been living on the land protecting it and stopping the building process.
Talks to solve the problem have been held between local iwi, the local marae, the group Save Our Unique Landscape (SOUL) and Fletcher Building.
This latest move by Council and Police is an attempt to solve the problem and enable a housing development to start.
What is happening at Ihumātao?
For more than three years there have been people living and protecting Ihumātao. The people are part of a group called SOUL.
SOUL – Save Our Unique Landscape – is made up of mana whenua and local community representatives.
Ihumātao is beside the Ōtuataua Stonefields Historic Reserve which is home to New Zealand's earliest market gardens. It is also a significant archaeological site on land considered wahi tapu, or sacred, by local hapū and iwi.
SOUL believe the land has strong spiritual and cultural significance and want to stop the planned housing development.
To find out more read the timeline below.
Timeline
In 2014 the government and Auckland Council set aside 32 hectares next to the Ōtuataua Stonefields Historic Reserve as a Special Housing Area (SHA).
The land, after being sold numerous times over the last 150 years, is now owned by Fletcher Building.
After this, the people of SOUL raised concerns and said they would oppose the development because of Ihumātao's historical significance.
It was the start of many protests and hui. Supporters built a structure representing a whare and a pou whenua was built.
On 5 November 2016, about 20 members of the community started camping by the side of the road.
In 2017, the campaigners took their fight to the United Nations. They wanted government intervention to address alleged breaches under the Declaration of the Rights of Indigenous People.
The UN report recognised that consultation and consent from Māori had not been adequately sought.
In March 2019, SOUL took a petition to Parliament demanding the government do something to prevent a confrontation on the land.
Finally, this week New Zealand Police went to Ihumātao to give the people on the land an eviction notice.