Kiwi triathlete Mike Phillips has produced the run of his life to win the 2019 Ironman New Zealand race in Taupo on Saturday.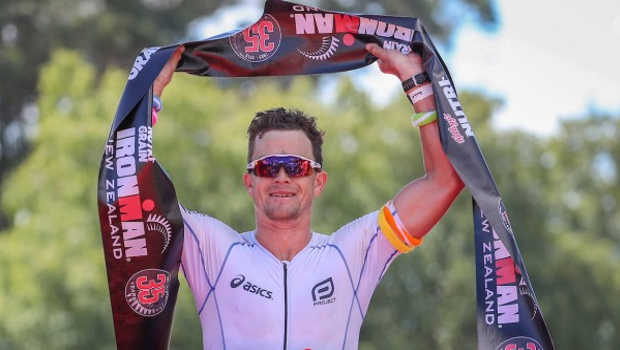 Starting the run 17 minutes down the kiwi timed his run to perfection, coming into first place with only about 2km of the 42km run to go.
He ran a 2 hrs:40 min marathon, which was a personal best by 10 minutes for the 30-year-old Cantabrian.
The win was made all the more special as he had to recover from mechanical issues and a crash on the bike leg.
He finished 2 min 24 sec ahead of American Andrew Starykowicz, with Braden Currie (NZL) a further 1 min 32 sec back in third.
Jocelyn McCauley (USA) secured an emotional victory in the women's race. She dedicating her race record victory to close friend who tragically passed away just weeks ago.
McCauley repeated her win from 2017 and did so in style, posting a new course record of 8:53:10, built on the back of a course marathon record of 2:58:06.
Results (total time including transitions, 3.8km swim, 180km bike, 42.2km run,)
Men:
1 Mike Phillips, NZL, 8:05:08, 47:57, 4:32:57, 2:40:04
2 Andrew Starykowicz, USA, 8:07:32, 49:48, 4:12:07 (CR), 3:00:16
3 Braden Currie, NZL, 8:09:04, 47:57, 4:31:02, 2:45:51
4 Matt Burton, AUS, 8:12:35, 52:53, 4:25:23, 2:49:34
5 Tim Reed, AUS, 8:22:12, 48:06, 4:37:55, 2:51:08
Women:
1 Jocelyn McCauley, USA, 8:53:10 (CR), 52:28, 4:57:26, 2:58:06 (CR)
2 Teresa Adam, NZL, 9:05:32, 49:24, 5:06:59, 3:04:15
3 Meredith Kessler, USA, 9:12:03, 49:22, 5:09:49, 3:07:48
4 Laura Siddall, GBR, 9:19:37, 1:01:05, 5:02:41, 3:10:59
5 Rebecca Clarke, NZL, 9:32:13, 49:19, 5:10:21, 3:27:12