Kiwi author, Peter Millet, has included New Zealand teachers and students in his new superhero book series!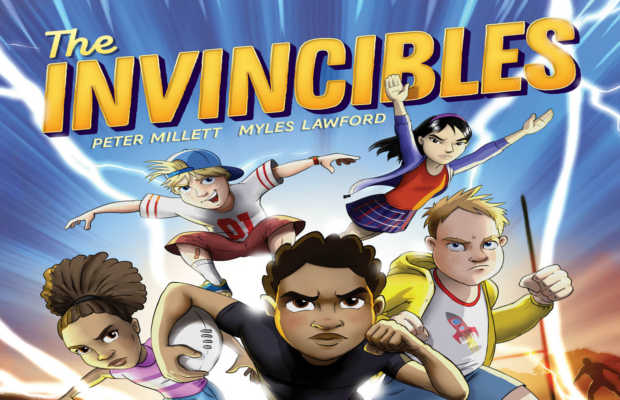 He has created New Zealand's first ever superhero sports team called 'The Invincibles'.
The series is about a group of five kiwi students who are hit by lightning on a rugby field and receive mind-blowing sporty powers. But these powers come with a catch – they only last for 80 minutes at a time and they have to be used very carefully before the final whistle blows! They also discover that their powers will only charge back up again if they agree to work together as team. Failure to do so means their powers will be lost forever.
To help give The Invincibles a true-blue kiwi feel the author enlisted the assistance of a number of primary schools while creating the series.
Upper Harbour Primary School in Auckland had two classrooms test reading the first story 'Power Up!', and one of the classes suggested that two characters needed to be removed from the narrative and a greater focus be placed on The Invincible's flying mascot 'Super Sheep'. Both of these changes were actioned and the teacher leading the feedback process, Mr James Clark, then found himself written into the story! Peter Millett always makes a point of listening carefully to school reader feedback, but this was the first time that he's actually included a reviewer as one of his characters.
Building on the theme of including real people in the series, the author then ran a competition for two primary school students to appear in cameo roles in book two – 'Short Circuit'.
M.J. from Manurewa West School in South Auckland and Eli from St Mary's Catholic School in Tauranga will join the fictional Arakino school rugby team that the five super-powered kids Tana, Scotty, Zinnia, Muzza and Andrea play on. They will appear as ordinary kids who mix company with some extraordinary team mates on the field.
Peter Millett wrote The Invincibles to appeal to kids who like Marvel movies and sport. He's created an epic Hollywood style trailer that features scenes from book one 'Power Up!' and a funny shout out to a very plucky super sheep character.
In keeping with the theme of blending superheroes and sport, both book one and two come with a set of limited-edition collector's cards included at the back.
The first book in the series 'Power Up' goes on sale across New Zealand on Monday the 1st of July.
It can be purchased from all good bookstores.