A new image from Japan's Hayabusa-2 spacecraft reveals a dark splodge where it touched down on the surface of an asteroid Ryugu last week.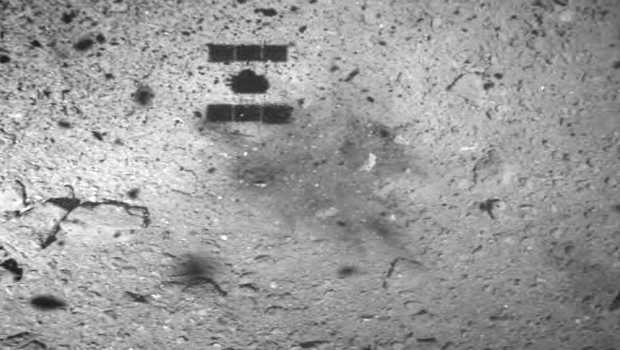 The discolouration could have been caused by grit being blown upwards by the spacecraft's thrusters, or by the bullet it fired into the ground.
The purpose of the touchdown on the asteroid was to collect samples of rock to hopefully bring back to Earth.
On touchdown, a 5g "bullet" made of the metal tantalum was fired into the rocky surface at 300m/s.
The particles kicked up by the impact should have been be caught by the sampler horn.
Hayabusa-2 arrived at Ryugu in June 2018 after a 3.2 billion km journey. Since then it has been hovering above the asteroid at about 20km distance from the asteroid's surface.