Large fires have devastated large parts of the Amazon Rain Forest.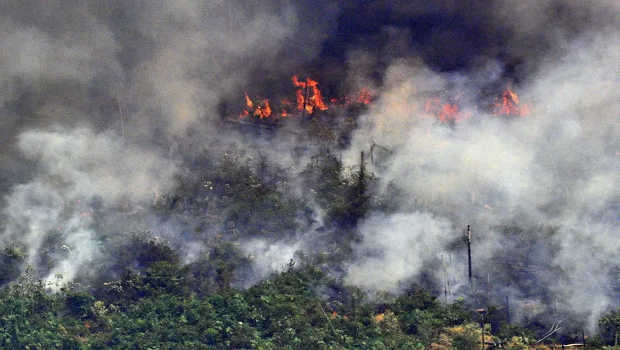 Using data from satellites, experts have detected more than 72,000 forest fires between January and August. There have been 9,000 recorded just last week.
The fires are so big they can be seen from space.
The large fires have been burning for almost a month now, and the dry season means they've spread much faster than normal.
Officials believe that some of the fires have been set on purpose by logging companies or farmers wanting to clear large areas of land.
Brazilian President Jair Bolsonaro has ordered the army to go and help with controlling the fires.
THE AMAZON
The Amazon is the biggest tropical rainforest in the world.
It is home to more than three million species of plants and animals, as well as a million tribespeople who live there.
The rainforest is a vital defense against climate change.
DEFORESTATION
When large areas of trees are cut down or cleared it is called deforestation.
Since the 1970s, the Amazon rainforest has been targeted by loggers.
Some of the main causes for deforestation in the Amazon are cattle farming, soybean and palm oil farming, and oil drilling.