COVID-19 might be a worldwide pandemic, but could it be an environmental tonic?
The panic of coronavirus is sweeping the world, as you might have seen through toilet paper hoarding memes or perhaps by the near-empty supermarket shelves in your own town. Despite our tendency to love internet humour, it is extremely important not to make light of the illness. Especially as circumstances change. That being said, while we are probably aware of the scary consequences of COVID-19, it is having a rather unexpected side effect: a positive environmental impact.
Since the beginning of the outbreak around New Year's Eve last year, more measures are being taken to limit the spread of the virus worldwide. Some of these measures include limits on global trade, social distancing and encouraging limiting travel. All of these have led to a decrease in carbon emissions which is good for the environment.
In Wuhan China, where the outbreak originated, there has been a noticeable drop in air pollution. NASA published these images of the air pollution about the city of Wuhan which shows the air pollution clearing as the outbreak has grown.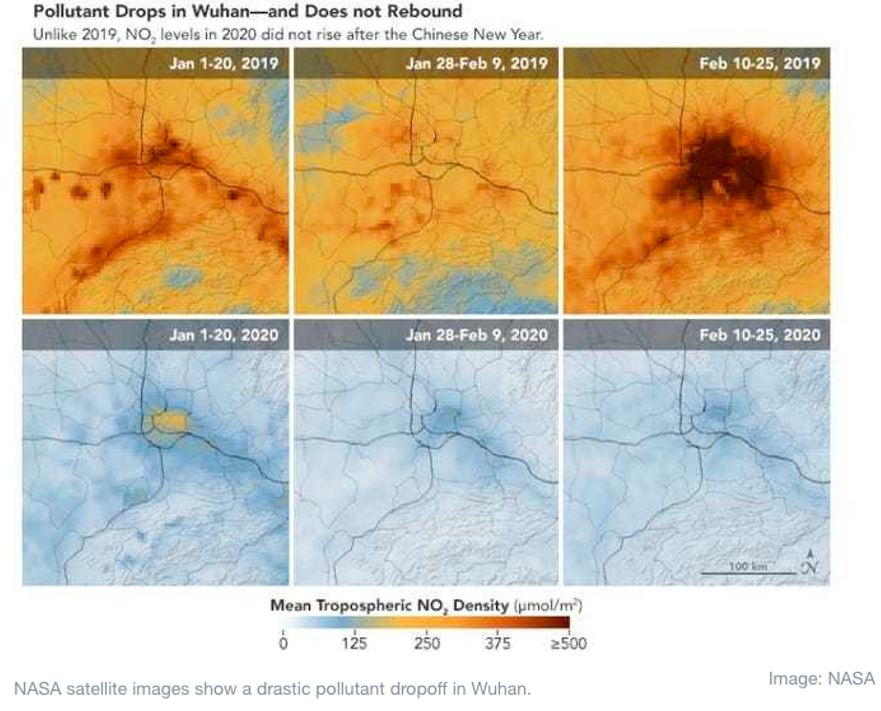 China is the world's largest contributor to climate change, and experts estimate that their emissions have been cut by about 25% since the outbreak. Similar changes have been recorded in Italy who have also been heavily affected by the pandemic. Cleaner air also aids in the respiratory recovery for those with the virus, making this side effect a win-win.
This, of course, is not the best way to reduce climate change. It has also led to a temporary halt of 'School Strike for Climate Protests' worldwide and postponed the upcoming United Nations summit on climate change. So whilst COVID-19 measures might be acting as medicine for the environment right now, it's clearly not a long term solution; just a silver lining to keep in mind.
Tips for Looking After Yourself and the Environment:
Wash your hands! Try to wash your hands with soap and water rather than using hand sanitiser when it is possible. Hand sanitiser is unnecessarily bottled in plastic and many doctors agree that it doesn't remove debris to the same degree as soap and water. Water washes the germs off your skin and down the drain.
Prime Minister Jacinda Arden has advised us that social distancing should become our new normal. Arden defined social distancing as remaining outside of spitting distance of those around you. Although this could also mean limiting contact with those who are sick or big social gatherings. Make use of awesome technology such as Snapchat and Facetime to stay in touch with your friends!