Leaders in Catalonia want to break away from Spain.
Catalonia is located in Spain's far north-east corner. It is one of Spain's richest and most highly industrialised regions, with most of the region's population living in Barcelona.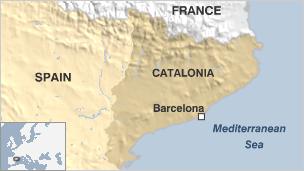 Spain's government has appealed to the Constitutional Court to intervene, and stop the process of independence. However, Catalonia aims to gain independence within 18 months.
Spain's general election is on December 20. It is not yet clear who will win the election but every party will want wealthy Catalonia to remain a part of Spain.